Bridging Electric Motorbikes to Southeast Asia's masses
TechinAsia gives us our inaugural interview and public reveal, albeit behind their paywall.
Our first public interview has been published by TechinAsia. If you're a subscriber like us, you can read it over here. It's always a pleasure to work with Terence; his laid-back demeanour is deceivingly disarming until he hits you with a difficult question out of left field.
Good journalism needs some supporting, so do sign up if you haven't already! It never hurts to give your story to folks you've known for a long time; as far back as when Willis' TechinAsia was still known as Penn Olsen, and Terence was still at SGEntrepreneurs. That's what got me to reach out to Terence for an exclusive reveal earlier last week.
We hosted Terence Lee at our humble abode in Tuas on the morning of 9 March for the interview, before setting him loose on our functional prototype, the Ion Model 0. Despite not having ridden a motorbike before, we reassured Terence that he'd be largely fine as long as he knew how to cycle a bicycle. After the mandatory safety briefing by my co-founder and COO Joel, Terence was off to the races!
Terence certainly had first hand experience when he wrote that our prototype "works and packs a punch". Despite starting at a leisurely pace, Terence got his motorbike 'sea legs' pretty quickly and surprised us by disappearing around a bend instead of circling back the same way like most new test riders would. Still, we wouldn't be rushing to vouch for his second career as a MotoE racer 😅.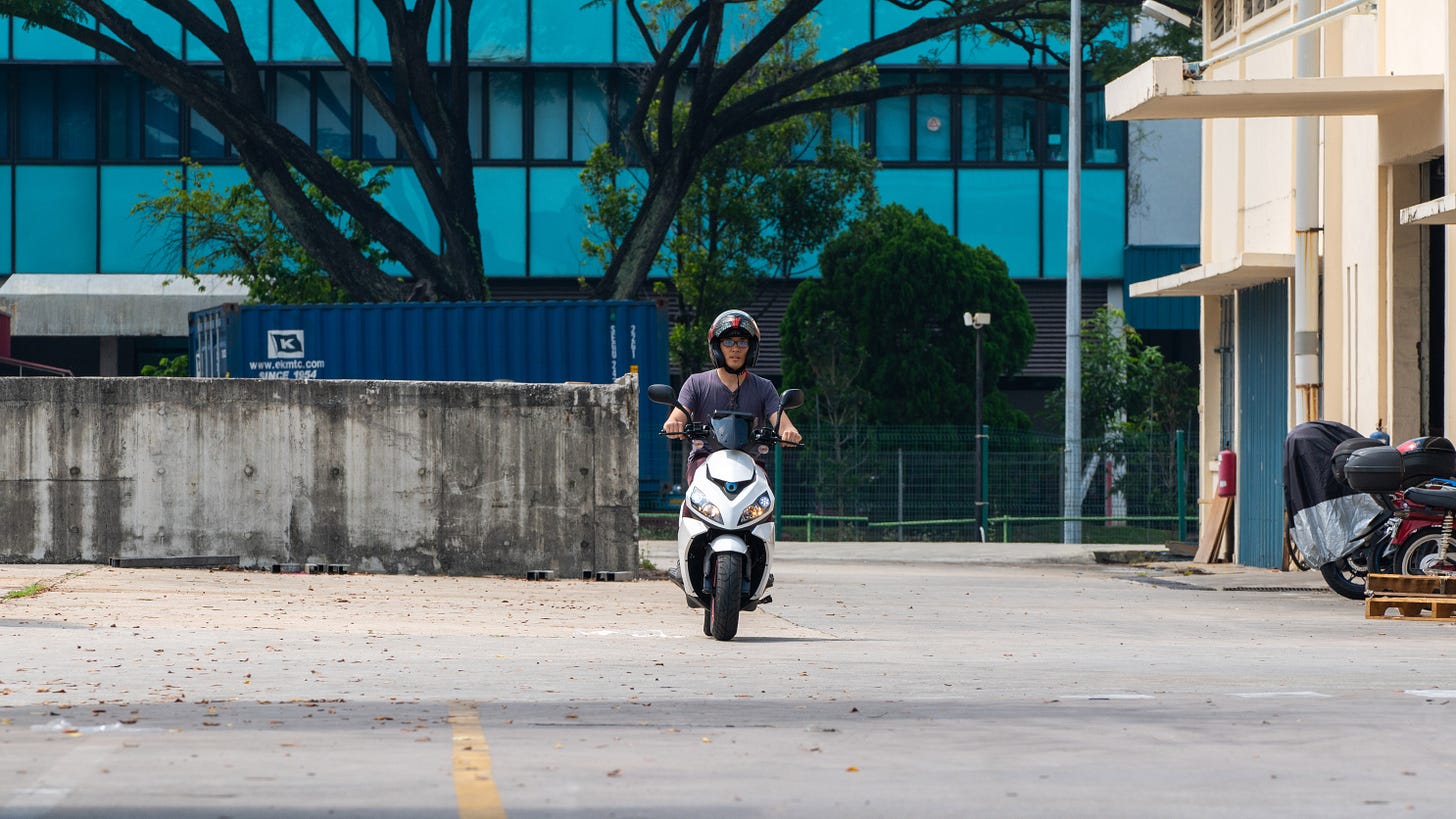 Terence is right to state that we're not the first e-motorbike maker out in the world; we're behind Gesits (Indonesia) and Scorpio Electric (Singapore) in Southeast Asia, and behind Gogoro (Taiwan) and Ather Energy (India) in Asia Pacific, but we're proud of our momentum and resource usage efficiency in this marathon run thus far to create the first mainstream electric motorbike in Southeast Asia, and hope to set the pace against Internal Combustion Engine motorbikes in this region in the coming months and years.
Since completing ION Model 0 late in 2019, the team's been demonstrating the prototype it developed in 9 months to prospective investors and partners in Singapore and Indonesia, while continuing development work for our go-to-market ION Model 1.
There's so much more we'd love to share, but all in good time 😜!